Finance Manager - Milnbank Housing Association
---

---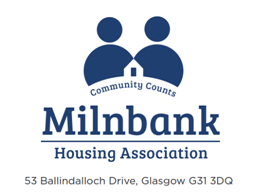 FINANCE MANAGER
(SALARY NEGOTIABLE, AROUND £47,000)
Milnbank Housing Association is a tenant led Community Controlled Housing Association operating in the Dennistoun area of Glasgow, owning and managing over 3,000 units. Due to retirement, we are looking to recruit a Finance Manager to ensure that the Association remains financially viable while delivering excellent strategic and financial control; effective financial management; value for money and the highest standards of governance and financial management.
The post holder will be a key member of the Management Team responsible for ensuring the delivery of the Association's vision, values and business plan, providing clear direction and financial control over maintenance spend.
The Finance Manager should be an inspirational leader who provides strategic direction to the Finance and Management Team, focus on budgetary control, organisational development, and performance improvement, while ensuring continued compliance with statutory, legal and regulatory requirements.
The post holder must also be committed to Milnbank's community ownership values and achieve high levels of customer satisfaction in the delivery of all asset related services.
Ideally the Post holder's will have the following:
Accountancy degree or relevant professional qualification.
Be a Member of CCAB Accountancy Body
Demonstrate strong leadership skills.
Experience of effective financial management and business planning.
Robust knowledge of financial regulations, legislation and current practice.
Excellent written, verbal and IT skills.
Experience of working in the community controlled housing sector
The Association offers an attractive benefits package. To apply for this position, please go to the vacancies section of our Website at www.milnbank.org.uk, or request an application form, by email, from admin@milnbank.org.uk.
PLEASE NOTE THAT CVs WILL NOT BE CONSIDERED.
Please contact 0141 551 8131, if you require further information.
The closing date for applications is 12noon on 19 February 2020.
Please return all completed application forms to HR@milnbank.org.uk.
---

---