UK ministers meet Scottish fintech entrepreneurs in Edinburgh
---

---
UK government ministers met Scottish fintech entrepreneurs yesterday at an event recognising the global impact of Scotland's growing fintech sector.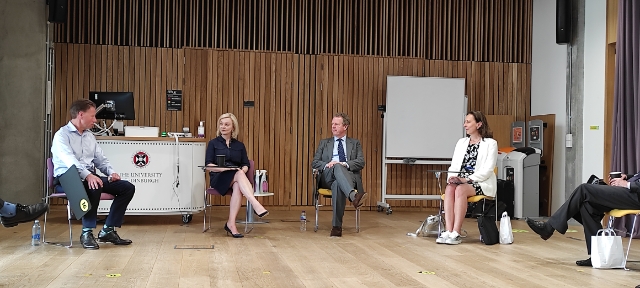 Trade Secretary Liz Truss and Scotland Secretary Alister Jack met figures from Direct ID, Modulr, FreeAgent, Float, EedenBull and Trace AI at the event in the Bayes Centre at the University of Edinburgh, hosted by FinTech Scotland.
A collaboration between the University of Edinburgh, FinTech Scotland and industry participants on innovative financial technology initiatives has enabled Scotland to be the home to the Global Open Finance Centre of Excellence as well as FinTech Scotland being recognised as the UK's first accredited fintech cluster.
Speaking after the event, Ms Truss said: "The UK is a world-leader in fintech and that's why we're breaking down barriers, pushing new frontiers in our free trade agreements and opening up markets to boost this growing industry.
"From Australia to Singapore, we are using our independent trade policy to drive foreign investment into UK fintech and increase export opportunities worldwide.
"Scotland's FinTech sector is thriving, and I want to ensure that we fuel the future global growth opportunities for fintech businesses across the UK."
Mr Jack added: "As home to 180 fintech businesses, Scotland is right at the heart of exciting developments as the UK becomes a major force within the global sector. Collaboration between academia, industry and government will ensure that Scottish fintech has a bright future ahead.
"It was great to meet with some of the key people behind the industry's growing success, and I look forward to seeing how their ambition and innovation will further enhance the profile of Scotland and the whole UK within the global fintech community."
The ministerial visit coincided with the unveiling of plans for Scotland's FinTech Festival in September, which will showcase financial innovation from across the UK, highlighting progress made since the Treasury's Fintech Sector Review by Ron Kalifa OBE was released in March this year.
The Fintech Festival, now in its fourth year, will be a diverse range of 50 plus events and activities taking place over four weeks with fintech leaders and entrepreneurs attending from the UK and virtually from around the world.
The Festival will include major conferences in Edinburgh and Glasgow with examples of innovation from Scotland and the UK amongst many other global fintech leaders.
Stephen Ingledew, executive chair of FinTech Scotland, who hosted the ministerial visit, said: "This visit demonstrated how collaborative leadership by entrepreneurs, large enterprises, academia and government can make a significant impact in delivering impactful fintech innovation which will shape the future economy and people's lives both in the UK and internationally.
"Our forthcoming fintech research and innovation roadmap will highlight how we will build on momentum created and foster further collaboration with the regional fintech hubs across the UK."
Peter Mathieson, principal of the University of Edinburgh, added: "The University has a global reputation for ground-breaking innovation and the Bayes Centre is a great example of creating a creative and collaborative environment delivering new opportunities in data, artificial intelligence and robotics in the emerging new sectors such as fintech."