UK first as NatWest trials voice banking
---

---
Customers of Royal Bank of Scotland subsidiary NatWest will soon be able to find out their bank balance and hear their latest transactions on smart speakers after the lender announced it will embark on a trial of voice banking.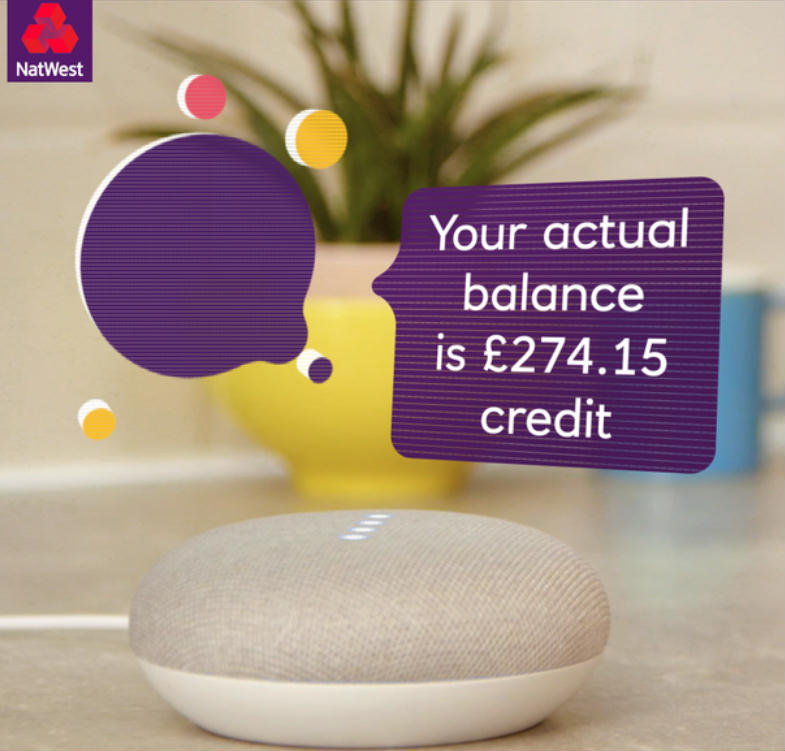 The pilot, which is the first of its kind by a high-street bank in the UK, lets NatWest account holders ask Google, via its Google Home speakers and phones, "What's my balance?", "What's my latest transactions?" and "What's my pending transactions".
Other questions and statements include: "I don't recognise a transaction," "What's the difference between my actual balance and available money?," "I want to speak to a human," "Give me a banking tip," and "Can I change my PIN?"
Google will then answer verbally as well as show the answers as a notification on the customer's connected phone or tablet. If a customer wants to speak to a human, Google can then call customer services.
The three-month trial is currently open to 500 NatWest customers across the UK and they will have to say two digits from a new four-digit password in order to securely access basic information about their account via the Google Home speaker.
If the trial is a success, NatWest plans to roll it out to more customers and is hoping to introduce more advanced features such as being able to transfer money and pay bills using voice commands.
"We are exploring voice banking for the first time and think it could mark the beginning of a major change to how customers manage their finances in the same way mobile banking made a huge impact," explained Kristen Bennie, head of Open Experience at NatWest. It could particularly benefit disabled customers.
NatWest insists Google will never have access to a user's bank details and all private details are deleted. This may not allay the fears of some customers, though, following reports of contractors being able to listen in on conversations via both Google and Apple smart speakers.
Apple has since stopped working with third-party contractors in this way and Google is investigating the practice.