Social care support services provider becomes Scotland's latest employee-owned business
---

---
As EO Day - the national celebration of employee ownership - is marked today; social care support services provider, Aspire Housing and Personal Development Services Ltd., has announced it has become the latest employee-owned Scottish business.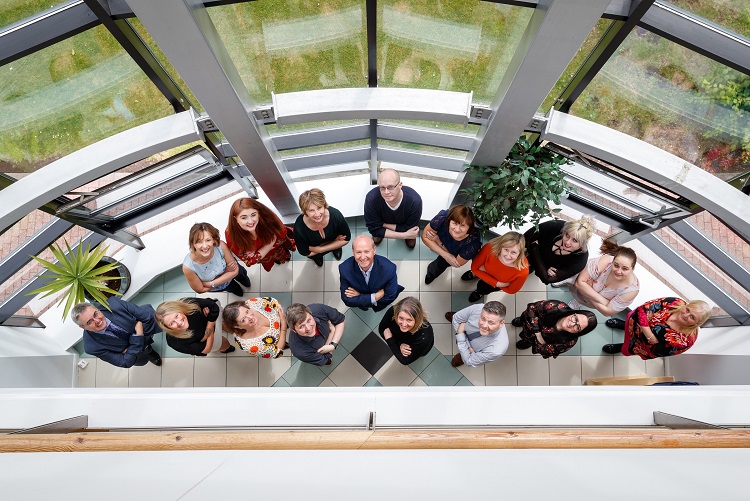 Following the transfer of 100 per cent of the Glasgow-based firm's shares into an Employee Ownership Trust, Aspire's 186 social care employees across the organisation are now beneficiaries of the Trust.

The range of services Aspire provides includes Self-Directed Support, Intensive/Complex Home Care, Homelessness Emergency Accommodation and Resettlement, Alcohol-Related Brain Injuries Housing Support, Care at Home, Criminal Justice and Young Care Leavers Services. Since 2011 Aspire has, every year, won a raft of Scottish Care National Awards.

The organisation was established in 2002 by Peter Millar who has over 47 years' experience in social work and community care including planning, commissioning, senior management, and developing and delivering services within Local Authorities and the NHS in Scotland. Mr Millar also founded the charitable organisation, The Richmond Fellowship Scotland, in 1993 and developed and managed it over a 13-year period.

Chief executive Peter Millar, who is one of five directors of Aspire, said: "I'm delighted that Aspire Housing and Personal Development Services is in the hands of our committed and highly talented team who have been overwhelmingly positive about this important development for our organisation and are now even more enthusiastic about it. We have a superb senior management team and excellent employee trustees and staff and we are all really excited about the future.
Mr Millar added: "Employee ownership is wholly consistent with Aspire's ethos and values. We are all about empowering people to achieve a better life and a more self-directed and optimistic future. Whilst that approach fundamentally underpins our work with the individuals we have the privilege of working alongside and supporting in the community, it is also highly applicable to our relationship with our employees. Employee Ownership enables us to elevate the status of our employees, enhance their opportunities to be more involved in contributing to the growth and development of Aspire, and allows all of those employees to equitably share the benefits from Aspire's future successes."

"Employee Ownership therefore provides Aspire with a stronger, more inclusive, collaborative and equitable model. In addition to giving all employees a real stake in the organisation, it also secures Aspire's position as a high quality provider of social care services in Scotland and an organisation that consistently makes a positive difference to individuals' lives and to their local communities."

Following the transfer of the organisation's entire shareholding into an Employee Ownership Trust, Aspire now has a Trust board which includes two elected employee trustees, Euan Jessiman and Cameron Gilchrist.

Mr Gilchrist said: "On behalf of the whole team, I'd like to give a huge thanks to Peter for giving us the amazing opportunity to share the ownership of Aspire - which has such a positive impact on so many lives - and there's something very meaningful, for both the whole team and the people we support, in becoming employee owned."

Co-operative Development Scotland, the arm of Scottish Enterprise which supports business growth by promoting collaborative and employee ownership models, provided Aspire with an ownership succession review and employee ownership feasibility study.
Carole Leslie of Ownership Associates guided Mr Gilchrist and the senior team through the transition process.
Legal services were provided by Campbell Clark and Sarah Winter at law firm Blackadders, while Andrew Ewing and Gillian Hadden of Johnston Carmichael supported the organisation with financial services.

Co-operative Development Scotland director Sarah Deas said: "Aspire is an inspirational organisation which supports people in a way that benefits society. Becoming employee owned reflects the organisation's vision and values. My congratulations go to Peter and the whole team. I wish them every success for the future.
"There isn't a better way of marking EO Day than celebrating another successful Scottish firm making the move to employee ownership. Our research indicates that 16,000 business owners in Scotland will be considering their ownership succession options over the next five years and as a result we expect interest in the EO model to continue to rise.

"Selling a company to its employees achieves a range of benefits; statistics consistently demonstrate that employee-owned businesses outperform their non EO counterparts in terms of higher levels of profitability, improved business resilience during times of recession, and increased productivity brought about by higher levels of staff engagement and enhanced employee wellbeing."

There are around 110 employee-owned companies operating in Scotland, with approximately 7,500 employee-owners generating a combined turnover of around £950 million. Some of the other Scottish businesses which have become employee owned during 2019 include Fife-based GS Brown Precision Engineering, ESPL Regulatory Consulting which has its headquarters on Shetland, and architectural practice Anderson Bell + Christie which is based in Glasgow.