Online Monzo Bank raises £20m in just over two days through crowdfunding
---

---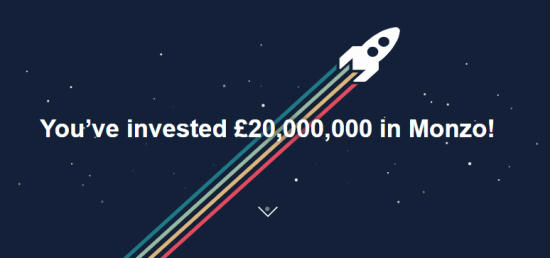 UK app-based bank Monzo has announced today that is its latest crowdfunding drive has been fully subscribed after achieving a cash injection of £20 million in just over 50 hours.
The investments were sourced via Crowdcube in a total of two days, two hours and 45 minutes.
In 2016, Monzo raised a record-beating £1 million in 96 seconds through crowdfunding, and more recently took in another £2.5 million.

The second round saw more than £12 million pledged, prompting the latest, far bigger effort to give another shot to the people who missed out the first time.

This week's appeal saw existing investors offered first refusal, commencing on 3 December.
They provided a £2 million of the £20 million target alone.
Next, eligible Monzo customers (including those with overdrafts) were allowed to join (with a max investment of £2000 each) through the bank's app, an invitation taken up by 33,549 of them.
Their contribution raised the remaining £17.9 million in just two hours and 45 minutes today.

In October the challenger joined the unicorn club on the back of a £85 million funding and has shot past the one million customer mark, claiming to own 15 per cent of all new current accounts opened each month in the UK.
The investment round caps a successful week for Monzo after it was crowned the UK's best-rated lender in an annual Which? poll, knocking long-standing champion First Direct off its perch for the first time in ten years.
In a statement posted on Crowdcube's website, Monzo Bank said: "We're happy that so many of you have been able to get involved and take a stake in the bank that you're helping us build. Our community has played an essential part in making Monzo what it is today, and your support and feedback are becoming even more crucial as we grow.
"So thank you to our customers, our loyal investors and our new ones – we're blown away by your support and so excited about what we'll do together."