Neil Francis: Now's the time to prepare for Brexit
---

---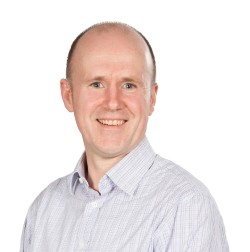 Neil Francis, interim managing director of Scottish Enterprise, outlines the support available to Scottish companies as the EU transition period comes to an end.
The past year has been incredibly tough for businesses the length and breadth of Scotland.
Due to the significant economic impact of COVID-19, many companies have understandably focused their attention on the here and now, adapting to what some are calling the "new normal".
But we know further change is on the horizon.
From 1 January 2021, the UK will no longer adhere to European Union (EU) rules following the end of the Brexit transition period. Irrespective of whether a trade deal is reached between the UK Government and the EU, we know this will alter the business environment for firms in Scotland.
That's why Scottish Enterprise is encouraging companies to prepare for these imminent changes and take action now.
The first port of call for all Scottish businesses should be our PrepareforBrexit website, www.prepareforbrexit.scot.
This multi-partner resource provides advice, information relating to potential sources of financial assistance and a Brexit transition toolkit that offers guidance for all companies through the transition period. Guidance can be found here on low-cost and low-risk actions businesses of all sizes across Scotland - whether they are exporters or not - can take now.
In particular, I would urge all businesses to view our ten-point checklist, which captures the most relevant changes we will see to the business environment. This sets out clearly the preparations that companies across Scotland can take immediately to help mitigate risks, ranging from reviewing the potential [practical] changes required across their business to assessing the new rules for trading with the EU and third countries.
Information on how businesses can get support to deal with customs, export documentation support via their local chamber in Scotland, as well as guidance on HMRC's Customs Grant Scheme, can also be found on this website.
We know that more and more companies are accessing PrepareforBrexit. In the last full week of November, visits to the website were up by more than 40 per cent compared to the previous week. This aligns with our intelligence that suggests most businesses are taking action to prepare for Brexit.
However, we also know many firms do not feel Brexit-ready. Confidence levels vary from sector-to-sector, with food and drink companies particularly unsure as to how the new trading arrangements will affect them.
That's why alongside our Scottish Government colleagues, Scotland's enterprise and skills system stand ready to help businesses address the challenges - and opportunities - presented by Brexit.
Working in partnership with Highlands and Islands Enterprise and South of Scotland Enterprise, Scottish Enterprise has identified Brexit-vulnerable companies and we've proactively contacted approximately 500 such firms to offer targeted advice and guidance.
Further businesses will be contacted before the end of the year and we will use these findings to target additional, detailed guidance to all companies across Scotland.
This engagement is part of a wider range of measures implemented by Economy Secretary Fiona Hyslop to support business across all sectors of the Scottish economy. The Scottish Government's building resilience steering group provides strategic leadership and co-ordination across the enterprise agencies to ensure effective delivery of the joint EU exit and COVID-19 response for Scottish businesses.
We are also working jointly with the UK Government on its field force programme, to provide advice to businesses in Scotland.
So, we know this is an already challenging time for companies due to the ongoing difficulties caused by COVID-19. But Scottish Enterprise and our partners are here to help.
As we enter 2021, together we can ensure Scotland maintains its position as a world class business location and a successful trading nation.