Loan defaults hit Clydesdale for £77m as lender hints that more branches could go
---

---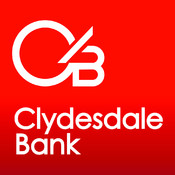 The owner of Clydesdale Bank has been hit by a rise in customers struggling to pay their credit card bills.
Glasgow-based Clydesdale and Yorkshire Banking Group (CYBG) has said it wrote off £77m in the six months to March.
This was up from £48m of impairments for the same period a year earlier.
The lender bought Virgin Money in a £1.7bn deal last year.
While Virgin was heavily reliant on long interest-free offers to lure new customers, CYBG has scaled back this practice.
CYBG has also reported that it will not rule out further branch closures following last week's announcement that five branches in Scotland will close this year in a move that will withdraw it presence completely from four towns – Arbroath, Brora, Largs and St Andrews.
The fifth to be shut is in Shettleston, Glasgow, with the latest closures leaving the bank with 62 branches in Scotland.
Chief financial officer Ian Smith said CYBG would "absolutely consider" closing branches which are "less well used", adding: "The other thing you will see over the next couple of years is that there are instances where we have a Clydesdale or a Yorkshire branch very close to a Virgin Money branch. And clearly, we only need one. So, there is going to be an element of de-duplication over the next couple of years in the branch footprint.
"And I think that many people get that now. You have to do this in a very customer-sensitive way, [and] make sure they have continued access to banking. But I think people understand that now."
Mr Smith said there was no change to the initial projection of 1,500 jobs being cut due to the combination of CYBG and Virgin Money by the time the integration is complete.
CYBG has previously said the Clydesdale name will ultimately be phased out as a result of the deal, with the enlarged bank going on to trade under the Virgin Money name.
Asked if there had been any backlash to the decision, Mr Smith said "most customers" understand the rationale, adding that the bank "can't be restricted to a particular geography" as it looks to grow.
Mr Smith said: "People get that and understand there are significant changes taking place in the high street in Scotland."
He added that the rebranding will take place over 2020 and 2021, and pledged an update on the timeline at the bank's capital markets day in June.