Frontier IP increases stake in Celerum
---

---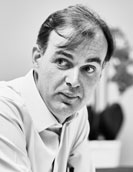 Frontier IP, a specialist in commercialising intellectual property, has raised its equity stake in portfolio company Celerum Limited from 10% to 33.8%.
The increase is in return for an investment of £25,000, converting a previous loan of £21,818 into equity, and for providing £50,000 worth of additional strategic, business and hands-on software development services.
Celerum, a spin-out from Robert Gordon University, is developing novel artificial intelligence to help businesses improve the operational efficiency of logistics and supply chains.
Professor John McCall, Celerum founder and head of the school of computing science and digital media at RGU, said: "This new investment and support from Frontier will allow us to take advantage of the strong interest shown in our optimisation technologies across a range of industries, taking it beyond logistics and supply chains to help improve operational efficiency, reduce costs and streamline processes in a number of sectors."
Neil Crabb, Frontier IP, CEO, added: "We are delighted to increase our equity stake in Celerum. The company's artificial intelligence has already proved its worth with industry, and clearly has enormous potential to improve efficiency within the transport services and logistics sector, and benefit many other industries."