Demand on Scottish high streets continues decline
---

---
High street retailers in Scotland saw a 4.8 per cent dip in footfall last month, according to the latest figures.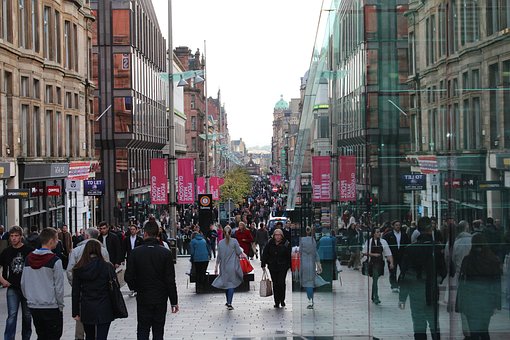 Scottish High Street's declined in July was steeper than the -3.2 per cent seen the month previously.
The data covering the four weeks 30 June – 27 July 2019 also showed town centre vacancy rate for Scotland remained at 9.8 per cent in July, the same level as seen in April.
Footfall across all stores fell by 2.8 per cent in July - a third successive month of decline - but retail retail parks bucked the trend, with growth of 2.4 per cent, the highest since October 2018.
David Lonsdale, SRC Director at the Scottish Retail Consortium, said: "These figures will be viewed as dispiriting for retailers with physical bricks and mortar premises. They clearly highlight the winds of change blowing through the industry, due to profound shifts in the way we shop but also the lingering weakness in consumer demand. That said, retailers are increasingly adept at harnessing the internet and multi-channel innovations to get through to consumers who may not have the time or inclination to travel to physical shops.
"Shopper footfall fell for a third successive month, its weakest performance since February. The shop vacancy remained unchanged, with one in every ten shops lying empty.
"Ultimately the success of retailers in this fast-changing world will be down to their own ability to evolve and respond positively to the transition in shopping habits. Having to contend at the same time with a hodgepodge of government-mandated cost rises, coupled with continued uncertainty over what our future trading relations with the EU will look like, simply makes that all the harder."
Diane Wehrle, marketing and insights director at Springboard, said: "July was a much more challenging month for Scotland's high streets and shopping centres than for its out of town destinations. Some of the -4.8 per cent drop in high street footfall was a consequence of a strong comparable of +1.8 per cent last year when we had a continuous period of hot sunny weather, but for shopping centres – with the -3.7 per cent drop following a -0.5 per cent drop in July last year - the weather clearly has less impact on footfall than the challenges created by the ongoing structural change in retailing. Indeed, the ongoing challenges faced by bricks and mortar destinations is reflected in the rising vacancy rate across the UK, which has increased in every quarter since January 2018 and now sits at 10.3 per cent. The more positive news for Scotland, however, is that its vacancy rate of 9.8 per cent did not increase over the last quarter.
"Consumer demand is ever more polarised between convenience and experience, and the stronger performance of Scotland's out of town destinations where footfall rose by +2.4 per cent reflects the fact that retail parks are successfully bridging the convenience-experience gap. They not only offer consumers accessible shopping environments with free parking and easy click and collect opportunities for online purchases, but many also combine this with an enhanced experience that includes coffee shops and casual dining restaurants, and some also have leisure facilities.
"The attraction of retail parks was demonstrated clearly in the last week of the month when temperatures reached record levels. With temperatures peaking at nearly 40 degrees on the Wednesday and Thursday of that week, footfall in UK high streets and shopping centres declined by an average of -7 per cent on those two days, but only by -0.5 per cent in retail parks. Indeed, the positive footfall result for Scotland's out of town destinations in July, particularly the fact that footfall rose by +3.1 per cent during day time trading hours, demonstrates that if the offer is right consumers will spend."