Business welcomes further easing of Scottish lockdown restrictions
---

---
Business organisations across Scotland have welcomed First Minister Nicola Sturgeon's latest announcement on the easing of lockdown restrictions in Scotland.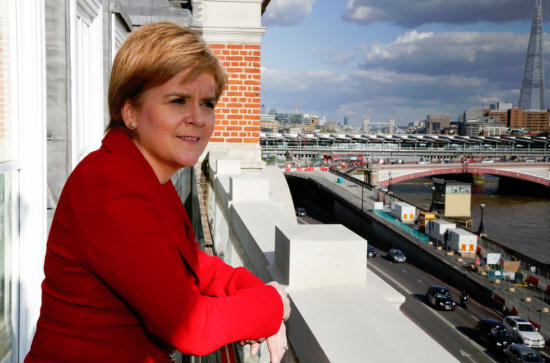 The First Minister announced yesterday that face coverings would be mandatory in all shops from July 10. However, she also revealed that the two-metre distancing rule will be relaxed in pubs and restaurants while remaining in place for other businesses.
Nicola Sturgeon said that hospitality businesses and shops will be allowed a one-metre rule when the reopen. She also confirmed that beer gardens and cafe's with outdoor spaces can reopen from July 6.
Dr Liz Cameron, chief executive of the Scottish Chambers of Commerce, commented: "Businesses in the hard-pressed retail, hospitality and tourism sectors will welcome this flexibility. Being able to reduce distances from 2m to 1m will mean more businesses can now start planning to re-open.
"Whilst this is a step in the right direction, we will need clarity and detail on the mitigations that businesses will be asked to implement. Ultimately, preventing the spread of the virus is everyone's responsibility and we must work together to ensure the mitigations are practical and affordable for businesses. Anything short of that will result in further job losses."
Tracy Black, CBI Scotland director, added: "Easing social distancing rules will make a substantial difference to the viability of thousands of firms in Scotland. The move will also have a material impact across sectors such as leisure, tourism and hospitality that are desperate to get back on their feet.
"As these sectors and others start re-opening, the safety of staff and customers must come first to maintain confidence. With the easing of restrictions taking place at different speeds across the UK, political leaders must work in partnership to minimise confusion and maximise collaboration.
"Meanwhile, planning must take place now for a sustainable and inclusive economic recovery. The Scottish and UK Governments must do everything they can to accelerate efforts to protect jobs, livelihoods and future prosperity, including extending and evolving business support programmes."
Andrew McRae, Federation of Small Businesses (FSB) Scotland policy chair, said: "This is another welcome step along the road to freeing us from lockdown and getting the country back to business. There's a real need, if we're to stem the tide of rising job losses and avoid long-term damage, to get as much of the economy up and running as quickly and safely as possible.
"There is a lot in this announcement and it is complicated – particularly around the two-metre rule. So, it will be crucial that the businesses who will be in charge of implementing the new rules are given clear guidance on the rules and their practical application.
"That's especially the case with mandatory face coverings in shops. That will be a big change for small retailers and it would have been easier to prepare if this was flagged ahead of them re-opening on Monday. Now there's very limited time to implement this and understandable concern about creating tensions with customers."
David Lonsdale, director of the Scottish Retail Consortium, commented: "Scottish Ministers have clearly listened to a number of the representations that the retail industry has made in determining further relaxations of lockdown. Lifting the five mile limit, not asking shopworkers to enforce the wearing of face coverings, and accepting our argument that physical distancing could be reduced when appropriate mitigations are in place, will help retailers' operations without impinging on public health. More steps will be needed, but there is much retailers can support in the First Minister's announcement."
On the lack of a firm date for reopening shopping centres, he said: "Headway is being made on the phased re-opening of the retail industry, and the go-ahead for food-to-go retailers to open their outdoor seating from 6 July is positive and should help encourage people back to our retail destinations.
"However, the lack of a definitive and firm date for the re-opening of stores in shopping centres and malls is unfortunate, some fifteen weeks after they were shuttered due to lockdown.
"Until those centres and malls reopen many non-essential shops will remain closed, and that means there are fewer reasons for people to visit Scotland's town centres and high streets. Hopefully, the continued progress in tackling coronavirus will encourage Ministers to provide much needed clarity very soon on this."
On the relaxation of the five-mile limit for leisure travel, Mr Lonsdale added: "Retailers in city centres will strongly welcome the proposed relaxation of the five mile restrictions. Whilst we understand why it was required, it's vital for the health of Scotland's city and town centres that we are able to attract customers to those hubs and encourage a return to shopping. That return is a vital step in restarting Scotland's economy.
On the proposed relaxation of the 2-metre physical distancing restrictions for retailers as one of three sectoral exemptions, he said: "We recognise the delicate balancing act between public health and economic recovery, and we believe the decision to allow retail businesses from 10 July to operate with reduced physical distancing where they can demonstrate it is safe is a sensible and welcome compromise.
"The reduction will support shops, which have faced limits and caps on footfall into store - and therefore spending - as a result of the physical distancing measures. Retailers have worked hard and have already taken numerous steps to keep customers and colleagues safe, and we will aim to work closely with Government to ensure there is clear and proportionate guidance in this area."
Discussing the decision to make the wearing of face coverings mandatory, he said: "The First Minister's announcement is further proof that there will be no immediate return to normal shopping. We've supported the government's view that the voluntary wearing of face coverings by customers can help to reduce the risk of transmission of this virus; in conjunction with using hand sanitiser and maintaining physical distancing etiquette in stores. Our members will seek to make this policy work.
"We understand the enforcement of this policy on customers will not fall on hard-pressed shop staff, which is encouraging. Retail workers are already responsible for maintaining physical distancing and hygiene regimes in stores to keep customers safe. Leaving enforcement to the authorities should hopefully remove any potential risk of new frictions or flashpoints with customers. It's therefore very welcome that Scottish Ministers have listened to our representations and understood while retailers and their staff will work to support this measure, it won't be their legal duty to enforce it."
Read all of our articles relating to COVID-19 here.