And finally..Baba's Bollinger Bolshevik
---

---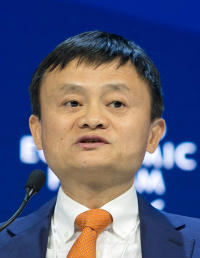 China's most famous entrepreneur, Jack Ma, the founder and executive chairman of Chinese e-commerce juggernaut Alibaba, with a net worth of more than $30 billion, has been expossed as a card-carrying communist.
Ma was identified on Monday as a Communist Party member by the People's Daily, the mouthpiece of the ruling party.
The 54-year-old was being honoured by the Chinese government as one of 100 people who have made "outstanding contributions" to China's economic transformation in the past four decades.
It is unknown how long Ma has been one of the approximately 88 million people who (are supposed to) pay monthly dues, attend regular meetings and sometimes submit themselves to "self criticism" to improve their ideological understanding.
The revelation — for the first time by state-run national media — comes amid rising concerns over the tightening grip on China's private sector by the Communist Party under President Xi Jinping.
"The fact he is 'outed' as a party member is significant — it's speaking to the times," said Duncan Clark, author of "Alibaba: The House That Jack Ma Built."
"The party is increasingly assertive about its role and people are reaffirming their commitment to the Xi (ideology)," he added. "It's almost like reading a pledge of allegiance every morning — it's getting more explicit."