And finally… strewth! Aussie note typo exposed
---

---
The Reserve Bank of Australia (RBA) has admitted 46 million of the most widely circulated banknotes in the country contain a typo.
The embarrassing oversight was spotted on notes which came into circulation in October.
The $50 note, which features Australia's first female member of parliament Edith Cowan, has the word "responsibility" misspelt three times on it.
The misspelling appears in an extract from her first speech to the Western Australia state parliament in 1921.
Australia's hi-tech polymer notes are among the most difficult in the world to counterfeit due to their extraordinary level of detail, and the technology has been exported to other countries.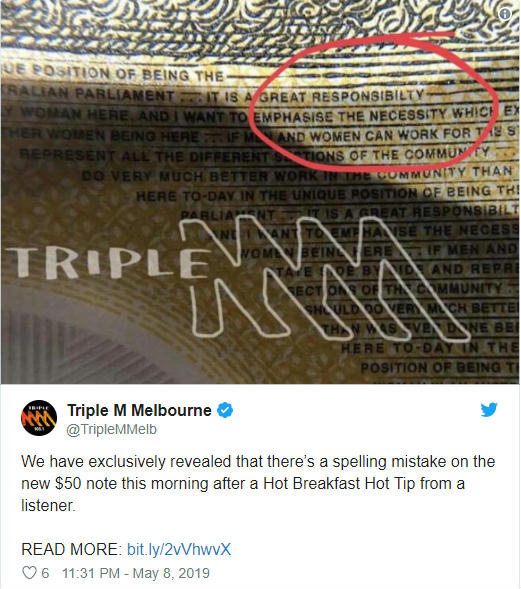 Triple M radio claims it was tipped off to the error by a listener and posted a photograph of one of the notes showing the word with a third "i" omitted on Instagram on Thursday.
An RBA spokesperson told the bank is "aware of the spelling error and it will be corrected at the next print run".
The $50 (£26.84) banknote accounts for nearly half of the total value of banknotes in use and is the denomination primarily used in ATMs in the country.