And finally… a local Waitrose ups house price by 107 per cent
---

---
The average price of a property within 1/4 mile of a Waitrose store is £469,933 – or 107 per cent above the national average, it has been revealed.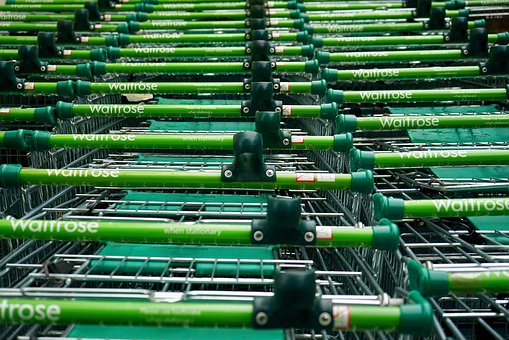 Voted as the best supermarket by the annual survey conducted by consumer watchdog Which? earlier this year, Waitrose remains firmly positioned as one of the nation's most well-recognised premium brands.
Store appearance, staff availability, helpfulness and higher standards were all praised highly by survey participants.
Despite scoring low on value for money, it remains clear that most Waitrose shoppers overlook this fact and appreciate that superior quality comes with an extra price tag.
It's become almost a given that living near a Waitrose store means that your house is likely to be worth more. Yet there has been little research that demonstrates by how much.
House seller Property Solvers recently sought to understand some of the market specifics and whether there were any specific trends worth noting.
The research took the average values of 24,874 property sales over the last 2 years within a quarter of a mile of one of the Waitrose stores across the country.
The data then excluded 36 stores – for instance, where there are no residential homes close by. This includes the Little Waitrose stores that often adjoin petrol stations and motorway service stations as well as the larger ones found in shopping centres and heavy commercial areas.
There were also some areas where no residential properties within the quarter of a mile radius were sold in the last 2 years.
A total of 315 stores in total were therefore analysed.
These figures were then compared with average sold property prices within the same postcode area.
Note that the research used sold prices lodged at HM Land Registry (as opposed to asking or advertised prices).
Results
The average sale price of 24,874 properties within a quarter of a mile of one of t*100he 315 Waitrose stores analysed was £469,933. This is almost 107% above the national average of £227,001 (Property Solvers used monthly sold house price data for the last 2 years from HM Land Registry's House Price Index);
The average prices of properties in the wider postcode areas where a Waitrose store is located stood at £1,220,296 – or 160% higher than within a quarter of a mile and 438% more than the Land Registry House Price Index over the last 2 years;
19.4% of properties within a quarter of a mile from a Waitrose store were under the UK national average over the last 2 years;
Just 3.2% of properties in the same postcode of a Waitrose store were under the national average of the last 2 years;
The cheapest properties located within a quarter of a mile of a Waitrose store were found in Wolverhampton (WV2), Preston (PR5), Sheffield (S11), Northumberland (NE46) and Northwich (CW9);
The most expensive properties located within a quarter of a mile of a Waitrose store were, perhaps unsurprisingly, found in Central London – namely: Belgravia (SW1X), Marylebone (W1U), Knightsbridge (SW3), Kings Road (SW3), Notting Hill Gate (W11).
Property Solvers' data collection demonstrated that owning a property close to a Waitrose largely translates to it being significantly higher in value than the national average.
According to the firm's co-founder, Ruban Selvanyagam: "It comes as little surprise that Waitrose stores can be found in some of the most affluent areas of the country including across prime central London, many parts of Surrey, Sunningdale, Henley-on-Thames, Beaconsfield, Windsor, Rickmansworth and Gerrards Cross."
"Prices are even higher when buying homes in the same postcode – i.e. beyond a quarter of a mile of a Waitrose."
Property Solvers believes that homes in the peripheral regions are generally larger, have more land / garden space and other redeeming features that naturally justify elevated prices.
Mr Selvanayagam added: "Although many Waitrose stores can be found in town centres and cities with varied demographics, any new store is unlikely to emerge in an area where the overall profile of the local population is at the lower end of the social class spectrum."
"As in the stores themselves, by and large, if you're looking to buy in the vicinity of a Waitrose store be prepared to pay a premium – often a hefty one."